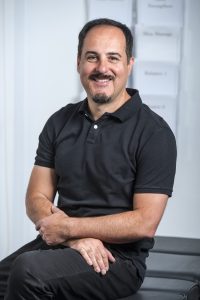 Tito is a Senior Practitioner with over 20 years experience. Tito is a Remedial Therapist and registered Spinologist who has used his refined manual therapy skills to help our clients since 2002. He is also equipped with Dry Needling and Cupping techniques.
Originally training with Dr Paul Conneely and then mentored and trained by Ted Jedynak (Podiatrist and Master in Foot Mobilisation Techniques ), Tito is well known for having the 'best hands in the business'!
Over the last 10 years, Tito has become an International Speaker and Trainer in FMT and other modalities, teaching practitioners who wish to expand and refine their knowledge in post graduate studies.
Tito is married to his lovely wife Anna and is father to his two gorgeous boys, Thomas and Connor. He coaches and enjoys watching both his boys play soccer and loves to travel with them!