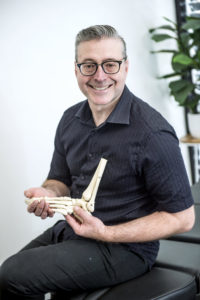 Michael began his working life in a trade as a moulder and core maker, while also studying mechanical engineering. Michael found he was missing the element of human contact, so even though he loved seeing how things worked he decided to leave the foundry he was working at to become a carer with Barkuma, working in the disability sector.
Michael loved his time there, but felt he had more to offer, so he decided to study to better support the people he was working with. His wife Veronica came upon podiatry and said 'hey Michael this sounds just like you'. With podiatry Michael was able to combine the two things he loved – helping people and mechanics – namely the mechanics of the feet.
In 2013 Michael became interested in Foot Mobilisation Therapy as it 'just made sense' – looking at the feet through an engineer's eyes….and what a marvel of engineering they are! Foot mobilisation therapy opened up solutions for many common foot conditions that he didn't have the answers for previously.
When Michael isn't working he enjoys working under the bonnet of his latest restoration, a 1971 2D Fairlane 351 V8. With a love of muscle cars and anything fast, Michael also loves windsurfing, bike riding, bushwalking, and is a real movie buff as well. Family time with his lovely wife Veronica and three awesome teens is something Michael values highly.