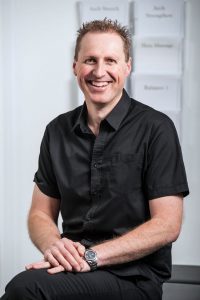 Mike is a Senior Practitioner at the Foot & Leg Centre. He is a happily married, proud father of 2 amazing boys and a progressive podiatrist who believes in questioning the standard treatment options for foot and leg problems in order to achieve better clinical outcomes for his clients.
With a career spanning nearly two decades, Mike has developed a passion for helping people achieve optimal foot and leg posture, reduce pain, prevent injury and improve performance.
Mike completed his Bachelor of Science Degree with majors in Microbiology, Immunology, Pharmacology and Toxicology in 1996 and went on to study his Bachelor of Podiatry, graduating Dux of his year in 2000. He also holds qualifications in therapeutic massage, sports massage, reflexology and shiatsu. Mike has focused his skills on foot mobilisation and manual therapy techniques since joining the Foot & Leg Centre in 2005, with a special interest in bio-mechanical and structural problems of the foot and leg.
When Mike is not saving soles he loves spending time water skiing, fishing, camping and swimming. Mike is a keen gardener and has a thriving home veggie patch and loves cooking the produce and making his famous tomato chutney.