Does My Nailpolish Really Contain That?
One of the most popular ways to care for and pamper our feet is to have a pedicure,  whether in a salon or something you do for yourself at home.  My favourite part of a pedicure is deciding what colour to paint my toenails but until recently I hadn't really thought about the ingredients in my mainstream nail polish and whether they could potentially cause harm.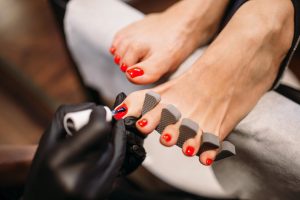 Our toenails and fingernails are porous which means that the ingredients in our nail polish will be absorbed and find its way in to our bodies.
Beware the Toxic Trio
The most harmful chemicals in nail polish are formaldehyde, tuolene and dibutyl phthalate (DBP).  They are known as 'the toxic trio'.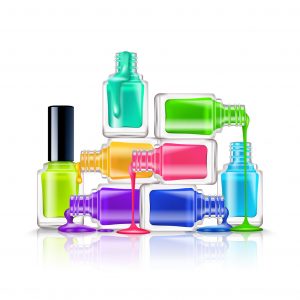 Formaldehyde is commonly found in glues, adhesives, plywood, particle board, foam and other building materials,  it's also used as a preservative  in embalming fluids among many other things.  It can cause irritation to the eyes, skin and throat and it is a probable human    Its use has been banned in personal care products in Sweden and Japan and there restrictions of its use in the EU.
It is used to strengthen and harden nail polishes.
Tuolene is found in paint thinners, glues and varnishes.  It is a petrochemical and neurotoxin and it's fumes are highly toxic.  It can cause dizziness and nausea and if inhaled can irritate the lungs and eyes.
Studies have shown high exposure can cause neurological damage and decreased brain function.  The EU has restricted the use of this chemical in personal care products.
In nail polishes it is used to create a smooth finish and to stop the pigment from separating in the bottle.
Dibutyl Phthalate (DBP) is a plasticiser and is used mainly in sheeting, flooring, car undercoating, sealants, adhesives, printing inks and lubricants.  It is a hormone disruptor and has been banned in the EU in personal care products and cosmetics.
It makes nail polishes more long wearing and chip resistant
But why stop at 3?
Formaldehyde Resin is a derivative of formaldehyde but not as toxic. It is used to form a tough durable film on the nail and is often used in long wearing nail polishes.
Camphor is sometimes used in vapour rubs and nasal sprays.  It can cause skin irritations and allergic reactions and can cause nails to become brittle and stain yellow.   It gives nail polish its glossy appearance.
Ethyl Tosylamide has been banned in the EU due to it antibiotic properties and concerns about antibiotic resistance. It dries nails fast.
Xylene is a solvent.  It can cause skin irritations and is used to keep nail polish from becoming gluggy.
Triphenol Phosphate (TPHP) is used to make plastic and is a fire retardant. It is a potential hormone disruptor and is used to increase the flexibility of nail polish.
Fragrances are used to disguise the less pleasant smells in nail polish.  The have been associated with allergies, dermatitis and brittle nails
Animal Products often contained in nail polish are carmine which is a red pigment made from crushed beetles, guanine which is a by- product made from fish scales, and oyster shells are also used.  These last two ingredients can give some nail polishes their metallic sheen.  Fragrances can also be derived from animal products.
Not all nail polishes are created equal and some are definitely better for us than other.
So what do you look for?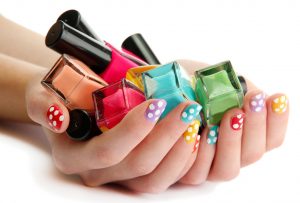 3 Free  –  no formaldehyde, tuolene, or DHP
5 Free  –  all of the above plus formaldehyde resin and camphor
7 Free  – all of the above plus ethyl tosylamide and xylene
10 free  – all of the above plus TPHP, fragrances and animal products
Here are some of the more well known brands that exclude some or all of these products.
Butter,  Benecos,  Hanami,  Ere Perez and Kester Black.
If you have little ones that like a splash of colour on their nails try:
'Kid Licks' Organic edible nail polish,  'Pure Poppet' and 'Snails'
We are lucky to be in a time where the demand for more natural  products is growing.   We now have healthier alternatives to choose from as well as accessible information to help us make those choices.
Knowledge is power – by being aware that not all nail polishes are created equal we can make informed choices that still give us great looking nails without compromising our health.

 

More blog posts…