How to choose a podiatrist for your foot pain problem!
So you have suffered long enough with your foot pain problem and it's finally time to get help! A friend, colleague or other health professional may have suggested that you go and see a podiatrist.
Now unless you receive a great referral or recommendation from someone, the first thing you will typically do is jump on Google and search for podiatrists in your area.
It's likely that there will be plenty of options and it's up to you to choose the best podiatrist for you.
This can be challenging!
What's more, a poorly selected podiatrist may result in delayed treatment outcomes, greater cost to you the client, and potential feelings of disappointment and frustration.
AAAARGGHH!
But don't worry you are not alone. A lot of people find it difficult to choose and compare the different options you have.
That's why we're here 🙂
The Foot & Leg Centre is a multi-award winning, well established clinic with 2 convenient locations in Kent Town and Glenelg. We want to make it easier for you to make an informed decision when choosing a foot health professional so that you feel more confident.
 KEY FACTORS TO CONSIDER
Ease of making your initial appointment
Clear diagnosis and personalised treatment plan with measurable outcomes (i.e. what the problem is and how to fix it)
The location, opening hours, parking, skilled practitioners, etc
The investment (cost)
Let's take a closer look at these factors.
EASE OF MAKING AN INITIAL APPOINTMENT
Firstly your centre of choice should have an easy to find, user friendly website. It should be simple to navigate and ideally help you to find the answers to a lot of your questions.
When you decide you're ready to book their contact details should be straightforward to find.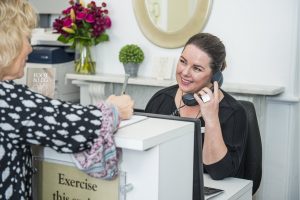 There should be multiple ways to book:
phone
email
and most importantly 24/7 ONLINE.
This will make it super easy for you to secure an appointment at a time convenient to you.
Once you have a booking you want a smooth system that:
Confirms your appointment, clinic location and practitioner you will be seeing.
Delivers a welcome email with all the forms you need to complete and the information you need to bring to your appointment.
You also want the clinic to confirm with you that your problem falls in their area of expertise and;
An SMS reminder confirming your scheduled appointment.
This process should be super easy, seamless, and enjoyable.
Along the way if you have questions then the team should be able to clearly answer them and confirm that you have chosen in right place for your problem.
CLICK HERE TO BOOK AN APPOINTMENT RIGHT NOW
AT YOUR FIRST APPOINTMENT
When you decide to go and see a podiatrist, you will likely have a few key questions:
What is my problem? (Diagnosis)
What is the solution? (Recommended Action Plan)
Who is the right personto help me?
You need to find a podiatry clinic that will answer all of those questions for you, on your first visit, so you can understand your problem and the best way forward.
To form an accurate diagnosis your practitioner should ask detailed questions about your past and present health. Complete a physical examination, analyse your foot posture and foot structure while you stand, and walk, and then check the range of motion of various joints in your feet and legs. Appropriate diagnostic test should also be ordered when necessary (eg x-rays).
Then your practitioner should be able to provide you with a diagnosis and a Recommended Action Plan with the goal of treating the cause and not just the symptoms.  So for starters…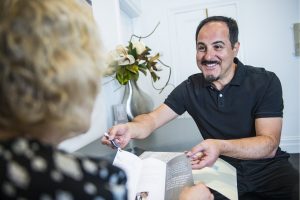 Your practitioner should provide you with a written explanation of: 
What is causing or contributing to your problem,
An estimate of the costs involved, and
A Recommended Action Plan that details what specific care is needed…and why.
When you walk out of your first appointment, you want to be crystal clear on having your questions answered and the way forward!
LOCATION, OPENING HOURS AND PARKING
Obviously if you can find a local clinic with the right skills to meet your needs then this is fantastic.
However, in our experience, we have found that people often find it far more beneficial to drive a little bit out of their way to get the right care, experience and outcomes that they are truly looking for.
Easy access and convenient parking with before and after work appointment availability adds to the convenience.
YOUR INVESTMENT (COSTS)
When it comes to healthcare the most important point to consider when it comes to cost is VALUE.
It is no good if you see the cheapest podiatrist in town a couple of times, and yet don't get the outcomes that you desire.
That is a waste of your money, time and you end up suffering longer than you should have too.
Of course paying top dollar also doesn't always equate to the highest quality care and best outcomes for you either.
Ultimately, it's about value.
Things to consider are:
The complexity of your problem
Are there clearly defined goals with measurable outcomes?
Is education around self-care and home based treatment/exercises provided to assist in outcomes, maintenance and independence?
Are there planned reviews and opportunity for feedback along your treatment journey?
How much you may be able to claim back from third parties such as private health insurance?
The effects of NOT getting the treatment you need?
At the end of the day you need to be comfortable with the recommended action plan and the investment required to get a solution to your foot pain problem.
We hope that by looking at these factors, you will choose the right podiatrist for you and fast track your way to a speedy recovery.
CLICK HERE TO BOOK AN APPOINTMENT
More blog posts…